Podcast: Play in new window | Download | Embed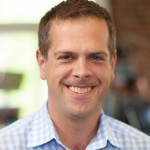 On June 18-19, the Mount Vernon Institute for Innovation (MVIFI) will host //fuse13. This immersive two-day event will offer a firsthand experience with design thinking. It will also offer new language for building on other people's ideas, stretching and being stretched, and navigating ambiguity as a team. MVIFI is collaborating with Leading is Learning, a laboratory for 21st century teaching and leadership based in Seattle, Washington. Greg Bamford (@gregbamford), co-founder of Leading is Learning, joins Design Movement to discuss leadership challenges, strategic planning, and learning design.
Greg co-led Prototype Design Camp Seattle and was the Curator of TEDxOverlakeon the theme of "How People Learn." He leads Leadership+Design each summer in Seattle, which trains a cohort of teachers and students in 21st century leadership development. Greg holds an Ed.M. in Educational Leadership from Columbia University, and is a featured presenter on education at events like TEDxPugetSound, the PNAIS Fall Educator's Conference, the SFLC Summer Institute on School Innovation, EduCon, the Martin Institute, and the Emerging Media Conference.
Greg is currently Senior Consultant  at Simplicity Consulting and a Leadership Consultant at the Santa Fe Leadership Center. His corporate clients have included Microsoft, Philips, Group Health, Intuit, and Healthland.  His school clients have included The Overlake School, Catlin Gabel School, Rye Country Day School, and University Child Development School.